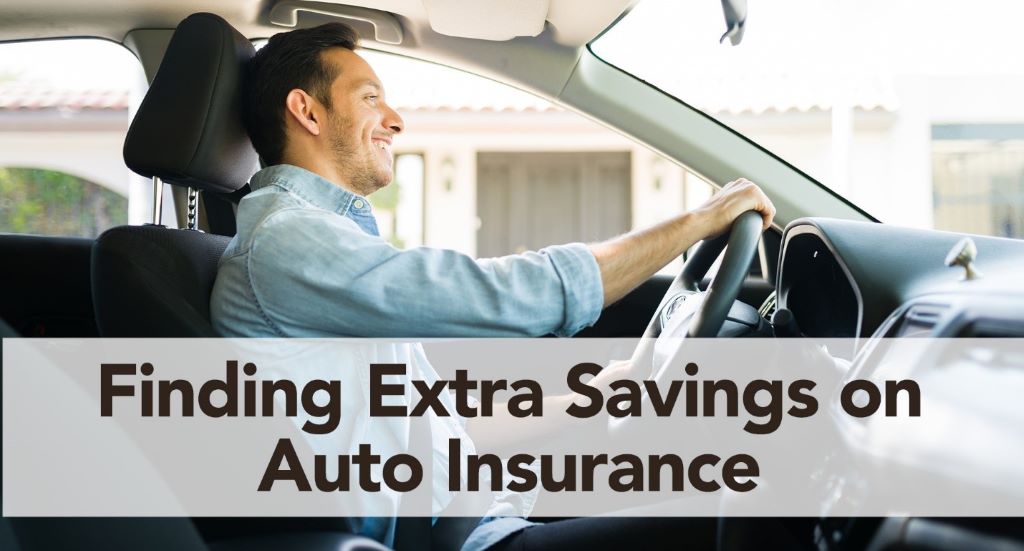 28 Jul

Find Extra Savings

Finding Extra Savings on Auto Insurance

It goes without saying that the best way to keep insurance premiums low is to avoid accidents and tickets. In setting prices, insurance companies constantly seek statistical patterns for groups of people who file more or fewer claims on their auto policies. These agencies also offer rewards to customers who are, statistically, safer drivers or for the type of work they do.

Here are some common auto insurance discounts. Shop around with the different insurance providers and see if you or your family members qualify for any of them. Remember that the discounts shown below are for educational and example purposes only and may not be available from every insurance provider:

Young drivers —Premiums tend to be high for drivers younger than age 25, but any beginning driver who takes a driver training course qualifies for a discount of up to 15%. Check also to see if a Good Student discount may apply. If a high-school or college student meets certain standards—usually a B average or better—the discount can range from 15% to 25%.

Older drivers —With some insurers anyone age 55 or older who voluntarily takes a defensive driving course qualifies for an auto insurance discount. These discounts range from 5% to 20%. The courses are sponsored by many state governments and AARP (American Association of Retired Persons).

Military families—GEICO and other companies have been known to give discounts of up to 15% for anyone on active military duty, retired from the military, or who is a member of the National Guard or Reserves. In the past, GEICO has offered an Emergency Deployment Discount to military members who are deployed into imminent danger areas. They will suspend or reduce your coverage if you put your vehicle in storage while you're away, then resume coverage when you return.

Discounts for everyone—Whatever your age, you can cut your auto insurance costs by carrying other insurance policies with the same company. On average, you can save 15% if you "bundle" your auto and homeowners insurance.

A final word-If you're buying a new car, consider the insurance cost. Many insurers rate each make and model and give you a lower rate if that car gets in accidents less often or costs less to repair at body shops.